New Cover
January 5, 2009
My editor sent me the final cover for STOLEN HEAT (book 2 in the Stolen series) this morning.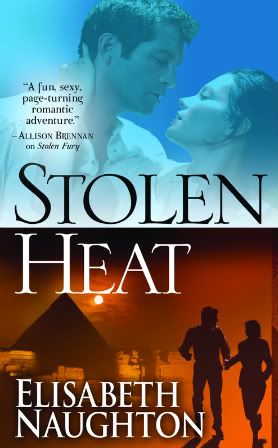 Antiquities dealer Peter Kauffman walked a fine line between clean and corrupt for years. And then he met the woman who changed his life—Egyptologist Katherine Meyer. Their love affair burned white-hot in Egypt, until the day Pete's lies and half-truths caught up with him. After that, their relationship imploded, Kat walked out, and before Pete could find her to make things right, he heard she'd died in a car bomb.
Six years later, the woman Pete thought he'd lost for good is suddenly back. The lies this time aren't just his, though. The only way he and Kat will find the truth and evade a killer out for revenge is to work together—as long as they don't find themselves burned by the heat each thought was stolen long ago…
AVAILABLE FROM DORCHESTER LOVE SPELL – AUGUST 2009
And today I'm blogging over at I Do Not Want To Wait about books following popular movie genres. Stop by and say hi!